XTA | 1.6 OPTIK Recessed – Size: 1.57" Wide (inc flange 2.12″) x 3.54″ Highintegral gear continuous

The XTA 1.6 series is a slim body profile with performance optics and a unique patented speed-connect joining system that ensures "light leak free joins" with removable gear trays that can be upgraded in the future.
FEATURES
Xero ProformaxS light engines are complete with drivers plus 90 degree and 180 degree joiners that can be lit or unlit. This allows a continuous ribbon of light without compromise.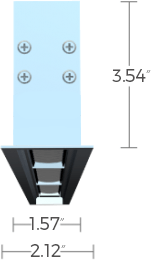 Output
CRI
80+
Warranty
Proformax
7 years
Electrical
Voltage input range
120 – 277V
Control methods
Dimming options for white light: 0-10V, DALI
Dimming control: DALI
Total harmonic distortion THD
9.8% max
Approvals
UL / CE / CCC / AS:NZS / EMC
Physical
Dimensions
1.57" Wide (inc flange 2.12″) x 3.54″ High
Weight
2.35 lbs average weight per foot
Housing
Aluminium Extrusion with anodised or powder-coated finish Standard colours powder-coated: white/black/silver/ custom on request
Diffuser
Frosted acrylic lens / Polycarbonate lens
Optic module
Baffles available in black and white, optic distributions available in 16º / 30º / 45º / 60º and 30º x 60º wall wash
Connections
Speed connect joining system with polarised electrical connection between sections
Compatible ceiling type
Suitable for (drywall) ceilings, metal pan, concrete, timber and T-bar grid ceilings
Mounting
Drywall clips as standard
Joiner options
Lit corner 90º / Cross 90º / Tee 90º / Straight 180º Join
Operating temperatures
ProformaxS – (-13ºF to 140ºF)
Environment
Dry indoor application only IP20
Minimum length adjustment
5.51″
LED Board types
ProformaxS boards in 5.51″ / 11.02″ / 22.0″ lengths Zhaga compatible
Optional Extras
Emergency packs